12th Annual Chili Cook-Off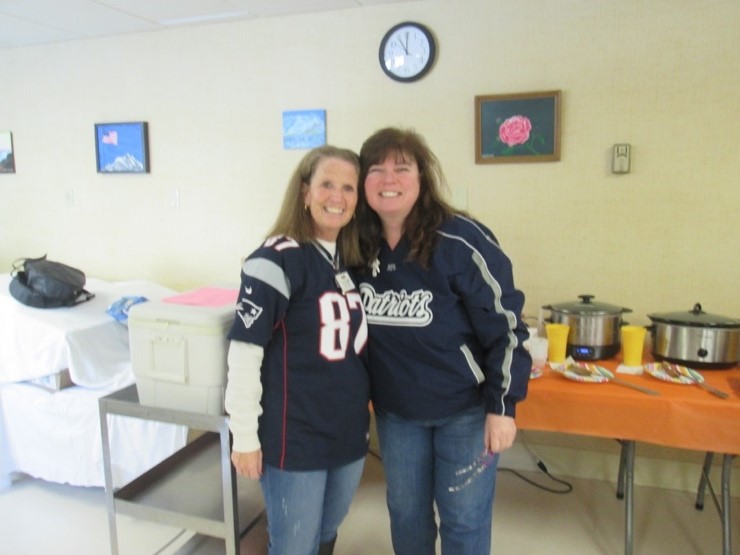 Southbridge, MA February 2019 –   The staff at Southbridge Rehabilitation & Health Care Center for the past 12 years have kicked off Super bowl weekend with a chili cook off. This year, there were seven contestants facing off against each other to see who the Chili Cook-off Champion would be. Judged by other staff members and residents of the facility, Stephanie Merceri, Scheduler, came out on top of the competition, with 2nd place going to Ann Faille, Social Worker, and 3rd to Augustine Aiguosatile, Executive Director. Each bowl of chili was $4.00, but if they were sporting Patriots attire, the bowls were $3.00 each. All proceeds went to the Employee Relations Fund, which goes towards staff events at the facility, such as giving out presents at the staff Christmas party. The whole event was one big party, with everyone in their Patriots gear in anticipation of a big win at the game! Pictured is Maureen Smith congratulating 2nd place winner Ann Faille.
Southbridge Rehabilitation & Health Care Center offers a wide range of services such as: Short-Term Rehabilitation, Long-Term and Respite Care as well as a Continuum of Care Offered for Home Health Care and Hospice Services. Please call 508.765.9133 to schedule a private tour today.
Southbridge Rehabilitation & Health Care Center is located at 84 Chapin St, Southbridge, MA and is managed by Athena Health Care Systems.  For more information, please visit our website at athenanh.com/Southbridge
###